Positive Judaism: The Book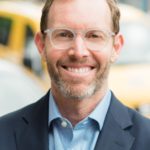 Dear Friends and Readers,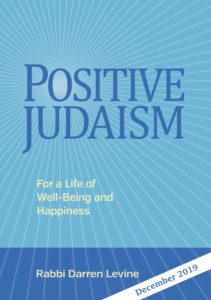 For the past several years, I've been singularly focused on questions of lasting happiness and well-being. This search has led me to write Positive Judaism: For a Lifetime of Well-being and Happiness. It's the first book that combines modern science and ancient wisdom to help everyone increase positivity in their own life, their family, their community, and the world.
In Positive Judaism, you will find proven activities to deepen your relationships practices for personal transformation in the face of challenge, and character strengths that build physical and mental health.
In the world today, we're facing so many challenges, yet we also have opportunities for growth and personal transformation. The good news is that now we have the tools, both ancient and modern, to guide our way. This is Positive Judaism.
---
Praise for Positive Judaism


"This isn't just a book on Judaism, it is a book for all people who want to live a good life and contribute well to the lives of others."
— Lea Waters, Ph.D., Psychologist, Professor, President of the International Positive Psychology Association
"This book may transform the way that you look at and experience Judaism, and more important, transform your own well-being."
—Ryan M. Niemiec, Psy.D., Education Director, VIA Institute on Character
"This book will prove invaluable to everyone who struggle with the challenges and trials, the joys and celebrations, life presents."
—Rabbi David Ellenson Ph.D., Chancellor Emeritus, Hebrew Union College-Jewish Institute of Religion
Positive Judaism is the first book of its kind to seamlessly marry the science of wellbeing with the wisdom of Judaism and will empower and inspire you with a deep connection to both."
—Emiliya Zhivotovskaya, Founder of The Flourishing Center
---
Peek Inside Positive Judaism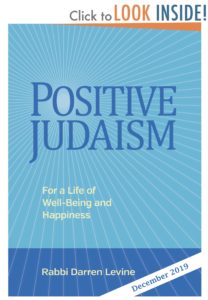 Review the Table of Contents
Read Darren's Letter to Readers: "Adopting Positive Judaism in Your Life"
Read Darren's Letter to Colleagues: "Adopting Positive Judaism in Your Community"
Read Darren's Letter to Faith Leaders: "Adopting Positive Religion for the Well-Being of Humanity"
---
Order "Positive Judaism: For a Life of Well-Being and Happiness"
Print, Audio, and E-book available wherever books are sold
Buy on Amazon Page
Buy on Barnes and Noble Page
Nonfiction-Hardcover and E-book, 192 pages
ISBN 978-0-87441-993-3
Behrman House Publishers
Audio Download and Discs
Tantor Media