Workshops for Jewish Youth and Camp Professionals at the 2019 Summit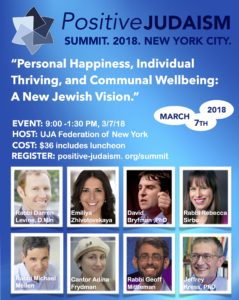 Calling all Jewish Youth and Camp Professionals!
We've designed a special track with sessions and workshops with experts in developing Positive Youth (meet them below). You know how complex it is to be a young person today and you also know the potential you have to positively change and impact their lives for the better!
Come spend the day with us and your colleagues to learn new skills, new program ideas, and new approaches to help students, youth leaders, chanachim, campers and camp staffs, grow in their happiness, wellbeing, and positivity in the Jewish way.
We look forward to seeing you at the Positive Judaism Summit!
Click to Register and for More Information
special registration for youth and camp professionals: $36
---

Michelle Shapiro-Abraham, Director Innovation and Learning, URJ Youth
Michelle works with with URJ Camps and NFTY and collaborates with the larger field to imagine new approaches to Jewish engagement. She holds a Masters Degree in Jewish Education from Hebrew Union College-Jewish Institute of Religion Rhea Hirsch School of Education and is a proud recipient of the 2015 Covenant Award for Excellence in Jewish Education.
---

Rabbi Matthew Gewirtz, Temple B'nai Jeshrun, NJ
Matthew is the Senior Rabbi at Congregation B'nai Jeshurun in Short Hills, New Jersey. He is the author of The Gift of Grief: Finding Peace, Transformation and Renewed Life after Great Sorrow" (Random House). A strong advocate of social justice, Rabbi Gewirtz is a founding executive committee member of the Newark Coalition for Hope and Peace.
---
Anna Marx, Chief Strategy Officer, Jewish Learning Ventures
In addition to her work at Jewish Learning Venture, Anna also serves as the Project Director of Shinui: The Network for Innovation in Part-Time Jewish Education.  Anna holds an MPA in Nonprofit Management and an MA in Hebrew and Judaic Studies from NYU and a BA in Political Science from Cal Poly, San Luis Obispo, CA.
---
Rabbi Avi Orlow, VP, Foundation for Jewish Camp
Rabbi Avi Orlow is an educator with a love of irreverent, relevant, and revealing Torah. He has held numerous positions as a camp educator and a Hillel Rabbi and spent an unforgettable stint running youth programming in Minsk, Belarus. Avi has a BA in religious studies from Columbia University and was ordained in the charter class of Yeshivat Chovevei Torah, the open Orthodox rabbinical school.
---
Aaron Selkow, Executive Director, URJ Camp Harlam
Aaron Selkow is a nonprofit leader, devoted camp and youth advocate, educator, and coach. His extensive work as a Jewish communal professional and executive has afforded him the opportunity to learn from ground breakers, to partner and consult with top organizations, and to mentor exceptional talent.
---
Rabbi Mike Uram, Executive Director and Campus Rabbi,  Penn Hillel
Rabbi Mike Uram was ordained by the Jewish Theological Seminary and is the author of the book, Next Generation Judaism:  How College Students and Hillel Can Help Reinvent Jewish Organizations, which won a National Jewish Book Award in 2016.
---
Bring yourself and your community to Philadelphia on March 14th!
See you at the Summit!